Malaysia appears to have flattened the Covid-19 curve – but according to experts, the country is paying the cost in lost jobs, mental health issues and an upswing in economic woes.
Until recently, the country was the worst hit by the disease in Southeast Asia, but officials said the national lockdown put in place on March 18 – under which schools and non-essential businesses have been closed, and social gatherings prohibited – had helped slow the spread of the disease.
Our country is entering the recovery phaseHealth director general Noor Hisham Abdullah
"[The movement control order has] succeeded in flattening the curve and our country is entering the recovery phase," said the nation's health director general Noor Hisham Abdullah earlier this week, pointing out that daily increases in cases had remained in double digits since April 16.
Malaysia has 6,002 confirmed cases of Covid-19, and has reported 102 deaths. Singapore now has the most cases in the region, with more than 16,000 infections, and has reported 14 deaths.
Although Malaysia's lockdown is set to continue until May 12, with a further extension expected to prevent mass gatherings during Eid ul-Fitr celebrations at the end of the month, the fight against Covid-19 is taking a toll in other ways.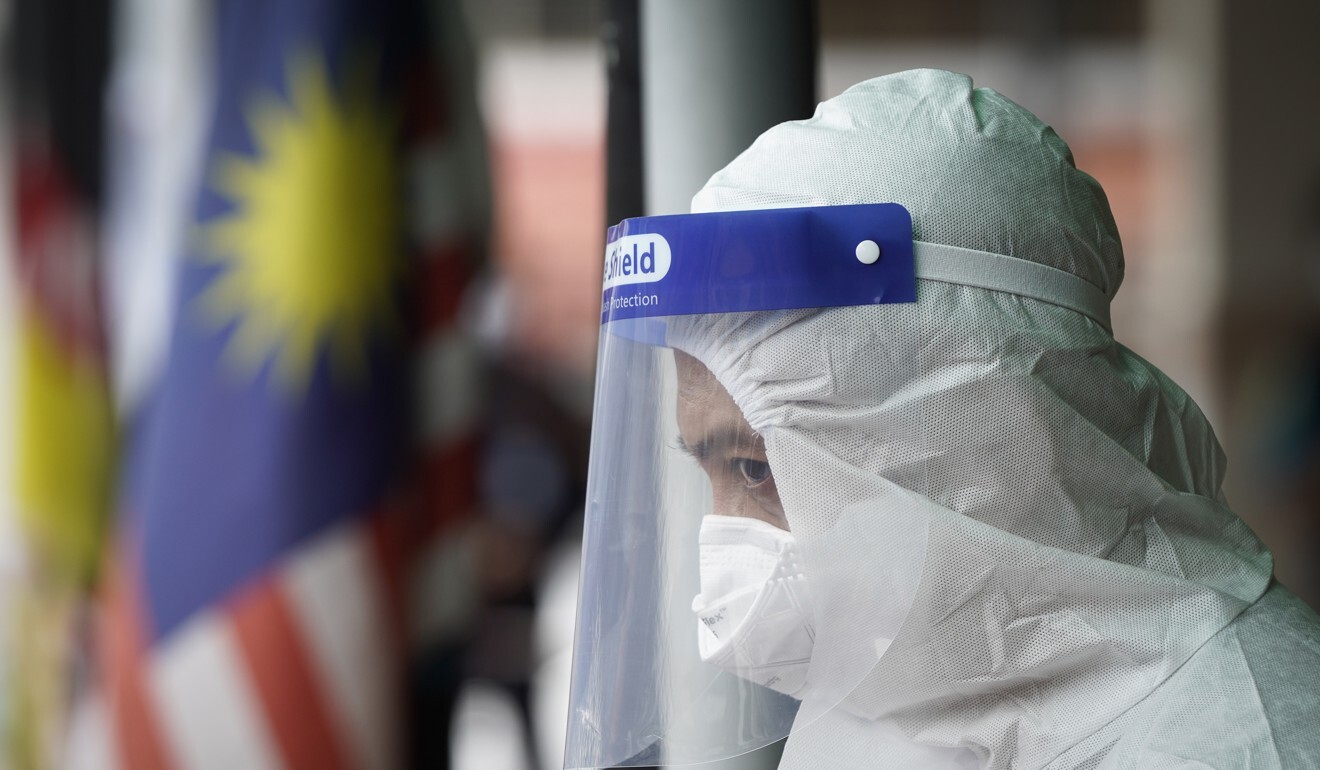 A health worker waits to collect samples for coronavirus testing at a locked down wet market in Petaling Jaya, Malaysia, after a trader there tested positive for Covid-19. Photo: AP
In a survey released on Thursday, think tank The Centre found that 50 per cent of respondents reported experiencing varying levels of negative mental well-being during the lockdown, with 22 per cent saying they were going through severe or extremely severe anxiety.
Women and those below the age of 35 reported higher levels of negative emotions, with up to 26 per cent of women saying they experienced severe and extremely severe depression, anxiety, and stress
People living in low-cost housing also reported more extreme signs of all three conditions. "This highlights a need to review how low-cost housing is designed and built, to take into consideration mental health implications," said The Centre in a statement.
Although there is no set metric for what constitutes flattening the curve – the term refers to slowing the rate of increase so as not to overburden the health care system – Malaysia has done well in managing the virus outbreak, said Dr Helmy Haja Mydin of Pantai Hospital Kuala Lumpur, who specialises in respiratory diseases.
"Each country has its own metric, largely influenced by socioeconomic consequences as well," he said. "For Malaysia, the numbers are a good snapshot of our progress but economic nuances must also be factored in."
According to the Institute of Strategic and International Studies (ISIS), the pandemic will have "devastating" effects on the Malaysian economy from external factors such as global supply and demand shocks as well as domestic factors such as the lockdown.
In a report, the local think tank said this would disproportionately impact small and medium-sized enterprises – which make up more than 90 per cent of the nation's economy – and vulnerable groups such as lower-income individuals and workers.
Although Prime Minister Muhyiddin Yassin has announced that some restrictions will be lifted, allowing for the slow reopening of businesses, experts said an exit strategy for the lockdown must be properly thought out so as to not "waste" the ground gained so far.
"Certain things must remain banned, such as interstate travel so that people do not rush to their hometowns for Eid celebrations," said Helmy from Pantai Hospital.
"Relaxations must be done based on ongoing data, and businesses allowed to reopen must have a continuity plan to show that they are able to prepare appropriate protection for staff and clients."
Although the lockdown has kept Malaysia's fatality rate below 2 per cent, the government last week said it was estimating daily losses of 2.4 billion ringgit (US$550 million) while businesses remained closed.
An army soldier stands on guard in Selayang Baru, on the outskirts of Kuala Lumpur, amid Malaysia's national lockdown. Photo: AP
The Malaysian Institute of Economic Research on April 25 estimated that around 2.4 million Malaysians could lose their jobs if the lockdown was extended for two weeks past May 12.
Meanwhile, migrant workers and refugees are taking the brunt of negative opinions, with some Malaysians demanding that the country's resources should only be spent on its citizens.
The government has announced a 260 billion stimulus package to help the economy weather the storm.
"This period is critical, as it is a litmus test on whether the lessons learned and culture formed during the movement control order have become a habit observed by all members of society," said ISIS researchers Zarina Zainuddin, Ariane Yasmin and Muhammad Sinatra in a report.
Sharifa Ezat Wan Puteh, a professor of health economics and public health at the National University of Malaysia, said despite its economic consequences, if the lockdown had not been taken to curtail the spread of Covid-19, the disease "could have infected many more people and caused much loss of life".
"If we use the human capital approach, the cost of disease management and deaths would have greatly outweighed the economic costs," she said. "However, perhaps better infrastructure and care of single mothers, disabled and marginalised communities need to be looked at again."
Source : https://www.scmp.com/week-asia/health-environment/article/3082363/malaysia-says-it-has-flattened-covid-19-curve-what